In Gary Harpst's book, Six Disciplines Execution Revolution, he writes "Everyone needs to understand that there is no one on earth who wants to do what he or she should be doing all of the time." You may see yourself in this statement – I know I do. Like me, you might very clearly understand that you must work continuously to improve your processes, your relationships with customers, and the quality of your work. But, like me, you may sometimes grow weary of change.
Sometimes the most obvious – but hardest to see – roadblock is us.
Human Nature
We must battle the human nature that sometimes tells us the status quo is ok, that average is an ok thing to be, that if what we're doing works, why change it? It's easier to be complacent than to dig deep into our willpower to get things done. And, as Gary Harpst said, we are not alone in our complacency – so if you're feeling it, assume that your employees are feeling it too.
But complacency isn't usually considered a positive trait, and less so when you're trying to grow something like a business.
Overcoming Human Nature with Accountability and Teamwork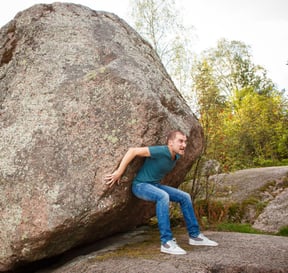 Accountability and teamwork are the best way to overcome our human nature in instances like this. Weight Watchers isn't a hugely successful program because of their great food! The accountability of "weighing in" with their cohorts and the sense of accomplishment they get from encouraging each other, "being in the same boat," and celebrating each other's accomplishments is what makes it successful. Members of AA cite fellowship and accountability to their sponsors to attend meetings, check in with phone calls, etc., as their building blocks to success.
So to overcome any lethargy in ourselves and our employees at work, we must hold us and them accountable. Create a plan – even better, create a schedule – to review processes and ask the difficult questions: "Are things getting done?" and "Is there a better way?" Set goals and deadlines to force yourself to take those steps even when you don't feel like it. Then, include your employees in the process. Make them part of the team that gets to ask questions, and then actually answer their questions. Engage them. And when you find ways to update processes and make things better/easier, make yourself just as accountable as your employees, and look for ways to make the changes as a team.
You'll be amazed at how much easier it is to overcome human nature with a deadline staring you in the face and a group of motivated team members surrounding you, ready to help.
Don't Give Up and Don't Give In
Just remember: avoid complacency at all costs – yes, even when things are going well. As they say, "if you fail to plan, you plan to fail." Businesses that fail to prepare to face challenges end up with bigger challenges in the future – ones that might not be solvable.
Need some ideas for engaging employees or planning a business process review? Contact us at Asyma Solutions today.