To be a successful HVAC/plumbing/mechanical contractor, you must complete each of your projects – whether they're commercial, industrial, or residential construction services – on budget and on time. You need systems tailored to small service work, major projects, or both and, if you work with larger industrial companies or major firms in the energy market, you likely need software to handle specialized billing and reporting requirements too.
Our software solutions provide you with tools to manage your time, cost, and scope. We can help you manage the risks of supplying or subcontracting the necessary materials, equipment, labor, and services to get the project done.

Asyma Solutions specializes in HVAC/plumbing/mechanical contractor construction business process analysis and provides companies with a detailed analysis that reduces or eliminates countless hours and resources lost due to duplication, human error, and more. We optimize your processes so you can take advantage of advances in management best practices and ensure your ongoing success.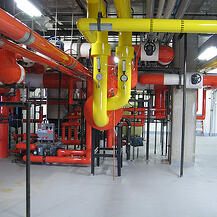 Our fully-integrated HVAC/plumbing/mechanical contractor solutions allow you to efficiently manage every aspect of your operations.
Is your company troubled by:
Inability to determine profit or loss by phase or category of job?
Poor project management due to limited access to information?
Difficulty tracking billable and non-billable hours?
Undocumented project changes?
Project cost records so behind that you can't bill by phases?
Non-existent or after-the-fact field reporting?
Low utilization of equipment and labour due to poor scheduling?
Inability to prepare accurate job estimates?
Inability to track retainage?
Asyma Solutions consultants can improve your business and profits through planning, tracking and process improvements, including:
Success Story
HVAC Contractor - Smith Heating and Air