Construction Software to grow your business
As your business grows, you need a robust construction accounting software that can handle the rigors of growth and change. Sage 100 Contractor (formerly Sage Master Builder) is able to work with small jobs, work orders to multi million-dollar contracts. Examples are time & materials, service contracts and design build contracts.
Sage 100 Contractor provides the easiest access to critical job cost and project information to help you manage your business operations more effectively.
Integrated construction accounting and project management software
Sage 100 Contractor provides small to mid-sized contractors with the easiest access to critical, end-to-end business and project information. You will be able to make better decisions and manage operations more effectively than when using off-the-shelf accounting software.
Features:
Business Visibility
With Sage 100 Contractor you always see the big picture and easily stay on top of important details. Set custom alerts and get notified when important conditions, like expiring vendor certificates or un-billed change orders, occur in your business. A customizable user dashboard and industry-specific reports and queries—all with drill-down capabilities—allow you to easily get the information you need and verify that it's accurate—every time.
Your project command center.
Construction projects are complex. Track all project details in one place and keep your jobs on schedule and within budget.
Regain control of all your documents.
Sage 100 Contractor reduces your risk by providing you with greater control of your documents and a clean audit trail. Organize, store, and route all versions of drawings, RFIs, invoices, contracts, and more to keep your business moving.
Raise your service performance to a customer-first standard.
Managing your service operations can be complex. You need to stay on top of all of the rapidly changing activities such as scheduling, billing, and inventory, all while making your customers happy.
Sage 100 Contractor Add-ons and Integrations
Customer Relation Management (CRM) for Construction - TopBuilder Click Here
Utilizing TopBuilder CRM for Sage and Sage Contractor 100, you can sync all (revenue, job requirements and sales/bid performance in one place) of the critical aspects so that you can efficiently manage the job.
Sage Service Operations Click Here
Integrated with Sage 100 Contractor and Sage 300 Construction and Real Estate, Sage Service Operations helps you deliver excellent customer service anywhere, anytime—so you retain your clients today and win new clients tomorrow. Operational Visibility blog post touches on the benefits of using real time solution for your organization.
Sage Field Operations - Mobile App Click Here
Integrated with Sage 100 Contractor and Sage 300 Construction and Real Estate, Sage Field Operations provides the team in the field with the critical information they need and streamlines communication with the office.

- Sage FIELDFLO for Sage 100 Contractor Click Here
Built by environmental contractors, FieldFlō is a comprehensive asbestos abatement software and demolition platform helping contractors run their business from a single interface. This offers peace of mind and the freedom to concentrate on what is most important: Your bids, customers, and company success. Click Here for website.

- Cloud-based Solutions for Construction Click Here
Cloud based technologies allow for greater control, connectivity and collaboration than ever before. With hh2 Cloud Services, businesses are now able to perform essential business functions like job costing, payroll, daily logging, field reporting, human resources and scheduling with greater ease, efficiency and productivity than previously possible.

- Sage 100 Contractor Integration to Procore Click Here
Manage a construction project in Procore that's synced to a job in Sage 100 Contractor. Link a Sage vendor with it's matching company in Procore's company directory. Accountants can also approve Procore commitments that use your Sage 100 Contractor cost codes and categories in Procore's ERP integrations tool for export to your companies Sage 100 Contractor database.
Paya - Credit Card processing Click Here
Paya provides simple, secure technology options enabling businesses to accept payments, get paid faster and increase efficiency. Integrated with Sage Service Operations.
Sage Paperless Construction Click Here
Simplify processes from project start to finish and eliminate the paper chase for accounting and operations staff. Sage Paperless Construction integrates with your Sage 100 Contractor or Sage 300 Construction and Real Estate solution to reduce costs, save time and increase productivity.
Sage 100 Contractor Add-on Modules
Estimating
Estimating Basic module allows you to stay on top of the estimating process from start to finish thanks to multiple takeoff options, industry-specific pricing databases, and integration with Sage 100 Contractor accounting modules.
Document control module
Complete project documentation with all the forms you need. Avoid disputes and communicate effectively with employees, customers, and subcontractors with Sage 100 Contractor document control capabilities.
Equipment module
Build your bottom line by better managing equipment. Track and charge all equipment costs directly to your jobs, helping your company recoup these outlays.
Service Receivables/Work Orders
Service Receivables include service contracts, service routes, service dispatch, on-call work orders, quotes, point-of-sale and billing-of-service work and materials. This option is integrated with the Inventory module for automatic decrementing of inventory from work orders.
Inventory
Keeping track of inventory items is easy with integrated estimating, purchase orders, accounts payable, job-costing, and service work orders. Whether you need to track inventory for a central warehouse or for a number of locations and service trucks, Sage 100 Contractor Inventory can handle it.
More Info Click Here
Helpful Links: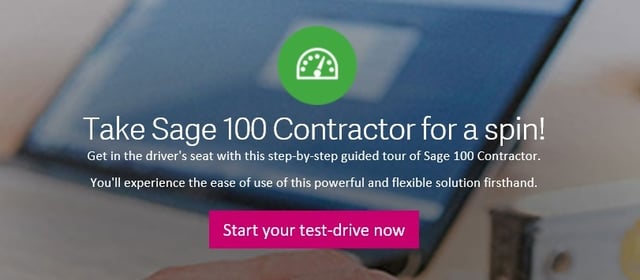 Sage Service Operations Video Click Here (For Service Jobs & Projects)
Sage Estimating Click Here
Asyma Business Process Review – Get help finding and setting up the right solution Click Here
Quick 2 Minute YouTube videos:
Sage Service Operations for Service
Sage Service Operations for Construction
Procore's Sage 100 Contractor & Sage 300 CRE Accounting Integrations
hh2 Cloud Services for Construction YouTube Channel
Sage Office Connector (Event 1)
Success Stories:
Construction & Field Service - JF Cook
Residential Contractor - Fatboy Construction
HVAC Contractor - Smith Heating and Air
Specialty Contractor - Greenstreak Landscaping
Specialty Contractor - Hayles and Howe
For more info, contact an Asyma Solutions business software expert today!