Contractor Software to grow your business
Sage 100 Contractor provides the easiest access to critical job cost and project information to help you manage your business operations more effectively.
Integrated construction accounting and project management software
Sage 100 Contractor provides small to mid-sized contractors with the easiest access to critical, end-to-end business and project information. You will be able to make better decisions and manage operations more effectively than when using off-the-shelf accounting software.
Features:
Business Visibility
With Sage 100 Contractor you always see the big picture and easily stay on top of important details. Set custom alerts and get notified when important conditions, like expiring vendor certificates or unbilled change orders, occur in your business. A customizable user dashboard and industry-specific reports and queries—all with drill-down capabilities—allow you to easily get the information you need and verify that it's accurate—every time.
Your project command center.
Construction projects are complex. Track all project details in one place and keep your jobs on schedule and within budget.
Regain control of all your documents.
Sage 100 Contractor reduces your risk by providing you with greater control of your documents and a clean audit trail. Organize, store, and route all versions of drawings, RFIs, invoices, contracts, and more to keep your business moving.
Raise your service performance to a customer-first standard.
Managing your service operations can be complex. You need to stay on top of all of the rapidly changing activities such as scheduling, billing, and inventory, all while making your customers happy.
Sales & Marketing - Customer Relation Management (CRM) for Construction - TopBuilder Solutions Click Here
Helpful Links: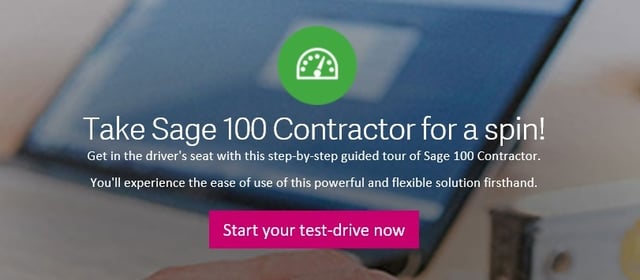 Sage Service Operations Video Click Here (For Service Jobs & Projects)
Sage Estimating Click Here
Additional Sage 100 Contractor Information Click Here
Asyma Business Process Review – Get help finding and setting up the right solution Click Here
Quick 2 Minute YouTube videos:
Sage Service Operations for Service
Sage Service Operations for Construction
Sage Office Connector (Event 1)
Success Stories:
Construction & Field Service - JF Cook
Residential Contractor - Fatboy Construction
HVAC Contractor - Smith Heating and Air
Specialty Contractor - Greenstreak Landscaping
Specialty Contractor - Hayles and Howe
For more info, contact an Asyma Solutions business software expert today!