True project profitability by streamlining data entry in the field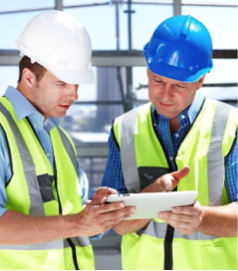 You are a successful contractor. You have built your Electrical, HVAC/Mechanical, Residential, General Construction or Heavy Duty Construction business into a reputable and successful business which customers have grown to trust. However, like many contractors using QuickBooks or Sage 50, you have no clue or somewhat of a clue as to which projects are profitable and which are not. You also struggle with administrative costs and reliability on project information coming from the field/job site.
You are not alone and technology can help. We live in a world that offers technology and innovation in almost every aspect of our life. If you have ever thought, "there has to be a better way" chances are there is.
We see customers struggle with data entry, errors, missed invoicing and not knowing project profitability on a daily basis, because we are also in the construction industry and know what that "better way" is.
Instead of having your technicians/supervisors/project managers manually fill out field tickets and/or timesheets why not have them enter the project information like time, equipment, materials directly into your accounting/project management system from the field? Do you know or could you estimate the time savings, reduced errors and increased revenue streamlining this process could realize? Chances are its tens of thousands of dollars every year.
Are you asking yourself now "it seems there is a better way, I should consider this?"
Then you should consider the solutions and services available.
My team is holding a complimentary online presentation (webinar) on this topic on Wednesday, January 18th. Click Here for more information.
I hope this information helps you uncover ways to utilize technology in your business.
Want to learn more about getting a business management software system or have comments? Contact Asyma Solutions Ltd today.