Many companies face problems with their reporting, such as when their expense reporting is part of their accounting. Separating the data for reports is time consuming and can eat up staff hours quickly. One way to combat the extra time and money is to streamline your reporting system.
Streamlined Reporting Systems
Simple is usually better when it comes to large tasks. Simplicity takes the guesswork out of the task and makes it easier to complete, often offering fewer steps to reach the same outcome.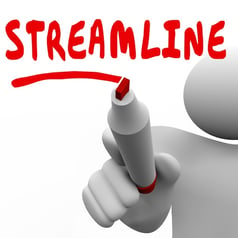 The same is true when you are looking for a good reporting system. You want one that will make your life easier in the fewest possible steps. Additionally, you want a system that does everything, leaving you with nothing to complete manually. There are many systems out there that only do half of the hard work, which means manual hours are still necessary. This is not a streamlined system. A streamlined system will be efficient, saving you time and money while still getting the work done.
Whether you are tracking expenses, payroll, or invoicing, the outcome is the same. You want something that is easy to use and gets the job done quickly and correctly.
Streamlined reporting systems should take all of the hassle and worry out of getting the basic job done.
A good system will offer:
A reduced need for manual hours, resulting in no overtime or rushed work.
Minimal errors due to reports being computer generated.
Ease of use.
Real-time data updating.
Freedom from paper accounting and drawers of financial documents.
A streamlined process should keep your business moving forward and provide all of the information you need. It keeps accurate and secure data and can generate quick reports when you need them.
For more information about streamlining your reporting processes and what it could do for your business, contact Asyma today.