As a residential building and remodeling construction contractor, you are constantly challenged with competition, meeting deadlines, and customer expectations of quality. To weather the storm of change orders and construction delays, you need adequate access to project management information and accurate project costing; success depends on your ability to accurately estimate, bid, track, and bill for your jobs. You must also manage supplying the necessary materials, equipment, labor, and subcontracted services to get the project done.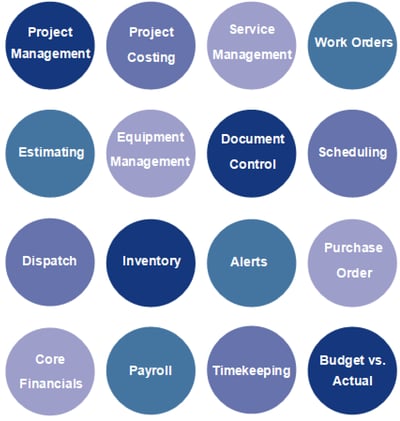 And your current management accounting system probably just isn't cutting it. Having your construction operations, financial data, payroll, construction scheduling, labour, equipment, and subcontractors in a single database is critical to success; the centralized system gives you easy access to critical information with alerts, dashboards, and reporting.
The specific requirements in each operation will vary, and some software solutions are more flexible in meeting your needs. Software is only part of the story, however. To ensure effective operations, you must develop specific processes to ensure the smooth flow of information into and out of the management accounting software. Therefore, software is only 50% of the solution; the remaining 50% is in developing, implementing, and training on the process enhancements required to use the software effectively.
Is your Residential construction contractor business troubled by:

Inability to determine profit or loss by project/phase/category?
Inability to track retainage and holdbacks?
Non-existent or after-the-fact field reporting?
Poor project management due to limited access to information?
Low utilization of equipment and labour due to poor scheduling?
Undocumented project changes?
Project cost records so behind that you can't bill by phases?
Inability to adequately track material costs?
Inability to determine availability of equipment?
Inability to prepare accurate estimates and track to actual results?
Cumbersome reporting?

Asyma Solutions consultants can improve your business and profits through planning, tracking and process improvements, including:


Accurate visibility and reporting on job/service profitability with a click of a button.
Breaking down costs to determine profit/loss.
Comparing actual cost to estimate and determine if a project is on budget.
Proper procedures to document and record all change orders.
Proper flow of information for timely and accurate job costing.
Improved office information flow for accurate invoicing and accelerated collections.
Timely reports to control material, labor, and equipment costs.
Continuous monitoring of construction jobs by site and tasks.
Purchase order control processing with integration project management.
Timesheet automation with integration to payroll.
Improved project management functions for project managers.

Success Story: Residential Contractor - Fatboy Construction