A visual process flow is the visual representation of a complex task or process – with a series of illustrations, one can see how the task/process is broken down step by step. Visual process flows make it easier for people to describe to others or to visualize for themselves how the task/process is done.
In addition to understanding how the process is done, visual process flows also help convey why the process is done. By illustrating the individual stages of a process, it is easier for workers to grasp the impact and consequences of neglecting or insufficiently performing any of the required steps.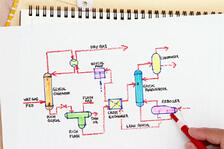 Visual process flows are very useful for new employees who need training – the illustrations that comprise a visual process flow make it easier for employees to learn their jobs. However, this process can save employers time and hassle for every employee, not just new ones, by explaining things in a more tangible way than a verbal explanation.
Some enterprise resource planning (ERP) systems, such as Sage 300 ERP, have their own program for creating and customizing visual process flow presentations. This particular program features an interactive graphical interface for illustrating the listed tasks. And because Sage understands the constantly evolving needs of a business, their visual process flow program is fully customizable, updateable, and editable.
If you are an employer, creating visual process flows can be an invaluable task. The ease and efficiency with which visual process flows explain complex processes will not only make your employees' jobs easier, they will increase their proficiency and accuracy. The illustrations are also good if your workforce has low literacy levels or if any of your employees don't speak proficient English. A visual process flow leaves little room for confusion or ambiguity; you can easily get your point across with minimal work.
Visual process flows, coupled with the ERP systems they are bundled with, can streamline many aspects of your business. To learn more about this technology, contact Asyma Solutions Ltd for more information.