Companies need to do whatever it takes to stand out in today's noisy marketplace. If your operations aren't functioning at a high level, it's all too easy for a potential client to move on to the company whose operations are functioning at a high level.
That's why automating business processes with software is the first thing you need to do to address gaps and boost your bottom line.
At least three parts of your operation can benefit from a software solution:
Your Warehouse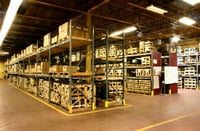 Your warehouse is the heart of your business, but when you rely on manual inventory management processes like Excel spreadsheets or even pen and paper, mistakes will become the norm. Warehouse employees will struggle with lost or misplaced items. Keying errors will slow down pick, pack, and ship times. Eventually, continual mistakes in these vital business processes will result in frustrated customers and eventual loss of business.
Inventory management software can fix those issues by providing vital data to help forecast your future more accurately.
The Front Office
Are your customer service reps fumbling on the phone with customers because your software is old and slow? Keying errors in this department will lead to customers receiving the wrong items, which will, again, result in frustrated customers and eventual loss of business.
Customer relationship management software can fix those issues by collecting important data about your customers and helping you guide them through the buying process.
Your Fleet
If your company depends on transportation, you've made a significant monetary investment and taken a big risk in the process. Incorporating fleet management into your software system can remove some of the risks associated with that investment, improve efficiency and productivity, and reduce overall transportation and employee costs. A software solution can also provide 100% compliance with government legislation in certain industries.
When you integrate a software solution into your business processes, your operations will run more smoothly with fewer costly mistakes – so you can spend less time putting out fires and more time growing your business.
Contact Asyma Solutions for more information.
You should also read our ebooks "What to Do When You've Outgrown Small Business Accounting Software" and "Effective Job Management for Field Service."