These are challenging times for businesses that provide contracting or other services to the Alberta oil industry. Overall, that sector is now – or will be – showing signs of a recession. Whether it's a long-term recession or a short-lived one remains to be seen, however.
Fortunately, a number of contractors still have work in select specialties assigned to ongoing, long-term projects. The firms lucky enough to continue their services are doubtless drilling down into their internal operations to monitor expenses. The focus will, of course, be on the profitability of each project.
An important component to monitoring expenses and focusing on profitability is HVAC project management software. Without such software, decision makers must rely on an array of separate programs for their data, which has numerous disadvantages, the least of which is the inconvenience of keeping track of numerous open programs. At worst, this type of data storage, because it lacks interconnectivity, provides outdated and possibly incorrect information.
HVAC project management software, like Sage 300 ERP, is a better solution because it provides mechanical contractors with a management system that holds all their information in a single database.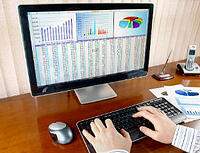 The enterprise resource planning (ERP) platform uses custom dashboards to help them make decisions with real-time information. The system organizes equipment, vendors, parts availability, inventory, warranty information, and many other aspects of your business processes. With dashboards, you can see an overview of business activities or you can drill down to see more details. Such details include material and supplies assignments, employee assignments, etc.; you can also choose to have information sent to you in reports, which are automatable.
HVAC project management software also keeps projects on track by allowing you to assess project stages as you go. You can view costs, profit margins, and other financial information in real-time. The software also nearly eliminates errors by doing away with manual data re-entry, and automation options equal faster payroll cycles, fewer mistakes in billing, and, most importantly, better customer relationships.
Best of all, these software perks are available in your office as well as in the field. Mobile technology options no longer mean waiting in frustration to pick up a signal, losing connectivity, or lugging around cumbersome devices – now it means working smarter, not harder.
If you provide services to Alberta's oil industry, consider getting an HVAC project management software system. Use it to monitor expenses and focus on profitability and be one of the businesses that doesn't get knocked down in the recession.
Questions or comments? Contact Asyma Solutions today.