Are you doing things because that's the way you've always done them? Are you doing things because you don't want to or don't know how to change the process – even if you know you'd be more efficient if you did change?
It's understanding the forest for the trees, so to speak. As you're plugging along, running your business, don't forget to look up from your tree cutting to make sure you're following the right path. Maybe there's a smoother path with smaller trees. Maybe there's a straighter path. Maybe there's a path with fewer trees to cut down!
This is the "value added." What is the value of the process that you're doing right now? Why are you doing that process? If the process is unnecessary, stop doing it. If you need to be doing it, are you doing it the most efficient way?
Let's look at time sheets, for example. Say you have time sheets that are filled out manually by your employees. Then, each employee has to fax or email the time sheets to human resources, a manager, etc. The receiver of the time sheets goes through them, adds them up manually, checks them off, and hands them to payroll to enter the hours into the system.
All of those steps increase the opportunity for error. Why are there so many people going through the time sheets? What's the value added?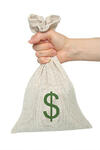 Obviously you need time sheets so that you know how to fairly pay your employees. So you know the information has to be collected, but are you being inefficient in collecting it? What's the value of somebody adding up the times and somebody else entering the times? Is there value in the time spent faxing/emailing the time sheets? In the time spent sorting them? What's the value in the time it took the employees to manually fill out their time sheets?
Because if you can take the time sheet straight from the employee and have a system to do all the sorting and calculations, you've gone from point A to point E – you skipped three people in the middle because there was no value being added to your business in doing those extra processes.
You need to get through those trees, yes, but don't forget to look up sometimes and examine what how you're doing so. Don't be afraid to think there might be another, better way.
Remember: value added. Is what you're doing adding value to your business in some way?