"This is the foundation of success nine times out of ten – having confidence in yourself and applying yourself with all your might to your work."
This and thousands more quotes are found in Dale Carnegie's Scrapbook, which I was awarded while taking the Dale Carnegie Sales Advantage Course.
Dale Carnegie was raised on a poverty-stricken farm in Back-Woods Missouri, twelve miles from the nearest road. Yet this farm boy became one of the best known men of our time – a success in business, a teacher of millions, and a famous author. (Dale Carnegie's Scrapbook)
Dale Carnegie was a man who loved the tang of a salty phrase. In all of his reading, the hooks of his attention were barbed to catch the pungent paragraph, the apt expression, the sweeping sentence that thereafter remained fixed in his memory… (Dorothy Carnegie)
This Scrapbook and the Dale Carnegie courses I have attended were able to open new doors to increased self-confidence and a genuine interest in people, whether it be with people I have just met or with current friends, family, co-workers, or clients.
By taking this genuine interest in others and actively listening to what they have to say I have become more successful at developing long lasting, quality relationships.
Why should you trust us to be good leaders? We'll show you:
My title at Asyma Solutions ltd is "Sales Consultant." Those two words, when put together, are often associated with negativity. No one likes a sales person and absolutely despise a pushy one. The thought "oh no, what does this person want to sell me?" is the number one thought to go through a person's mind when meeting a sales person. This makes work life a little difficult at times but also presents a challenge that I am up to taking.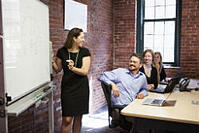 What I was able to learn at Dale Carnegie Sales Advantage and the Beliefs/Mission Statement that Asyma embodies have given me the tools to combat this negativity. If you think in terms of "every 'no' I receive just gets me that much closer to a 'yes'," then you are setting yourself up to succeed. I truly want nothing more than to provide our clients with solutions and consultations that will provide them the greatest value. I have learned that by providing our clients with what they need, Asyma will ultimately get what we need in return – a long lasting relationship in which both parties thrive.

My advice to you – the reader – is that you should give it a try. Take a genuine interest in others and you will find yourself making friends, connections, and long lasting relationships. You will feel confident and courageous in everything you do. If you want to improve any aspect of your life, you should take a Dale Carnegie Course – you won't be disappointed.