With the tremendous competition in the service industry, managers and business owners are constantly faced with the challenge of cutting costs without jeopardizing the quality of their work. To do so, it is necessary to have an accurate picture of a project's financial standing, which requires accurate allocation of costs to the correct job.
Determining material and labor costs relative to a specific job is pretty straightforward. What's more difficult to determine is depreciation, insurance, taxes, equipment maintenance/ repairs, etc. Those job elements are harder to track and, therefore, their allocation to jobs is more difficult.
If you're in the service industry, these are some questions that you might have to ask yourself during the course of a project:
How much did the four-hour delay of materials cost? Don't forget that it didn't just cost money in labor, but also in overhead costs.
What is an accurate estimate for the latest change order – is it more beneficial to quote it as a separate job? If not, what is the cost of the additional work relative to the work already underway?
If a job is halted for any length of time, what are the costs of reassigning workers for that time? How much should you adjust the estimates for workmen's compensation premiums after the change?
What percentage of your insurance, taxes, utility costs, and other related overhead costs should you allocate to each project?
How do you handle the different tax and payroll related issues for projects in different municipalities?
If you purchased new capital, how will it affect your financial statements? What is the return on investment percentage?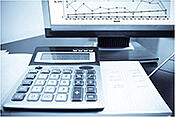 These are just a few of the questions that you need answers to in this field – in reality, the questions are endless, as are the number of unforeseen issues that can arise during a project. And while finding the answers seems like a difficult task, doing so is critical to managing your bottom line.
One of the best ways to find answers and correctly allocate costs is to use accounting software designed specifically for the service industry. This software tracks and analyzes the costs of the things that aren't easy to track and analyze, such as the aforementioned depreciation, insurance, taxes, equipment maintenance/ repairs, etc.
With project specifics entered into the system, the software can ensure that the correct costs are allocated to the correct projects, which is critical to your success.
Want to learn more? Contact Asyma Solutions today.