Over the past few years, your heavy construction business has been concentrating on road building, installing generator sites, and completing local government projects.
Now, you're bidding on a few jobs in the Alberta region where your experience should place you in a good position to win a couple of big contracts.
Why You Need Better Tracking, and How to Get It
In doing all this, you learned pretty quickly that it's not just about the skills you and your employees have. You also need to keep track of the other facets of your operations, including cash flow, change orders, and customer service.
That's why you've invested in new heavy construction software – to integrate all the different parts of your operation into a single database management system. This keeps you up-to-date with real-time financials and other necessary information.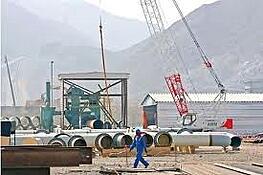 The heavy construction sector relies on a steady flow of information to manage multiple projects. Using legacy programs like the Microsoft Office suite slows down the process of searching for and finding information; it also all but encourages inaccuracies and duplicate entries
How Heavy Construction Software Helps
With heavy construction software, construction operators can keep a pulse on:
Material costs
Project changes
Labor costs
Job estimates
Preventative equipment maintenance
The competitive nature of business in the Alberta fields requires the right technology to be a viable player. Contact Asyma Solutions for more information.