We have all seen how a lack of accountability in business or in your personal life results in less than desirable outcomes. One of our greatest challenges is being able to stand back and evaluate ourselves.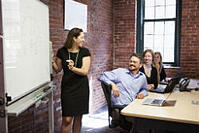 To be good leaders, we must develop strong self-discipline and understand that we cannot trust ourselves. We need to hold ourselves accountable and seek input and advice from others. As stated by Jon Huntsman: "There are no moral shortcuts in the game of business – or life. There are basically three kinds of people: the unsuccessful, the temporarily successful, and those who become and remain successful. The difference is character."
We need to lead ourselves to continually add value to others. As Dean Alfange says, "And, whatever I do, I do in the spirit of win-win. If I help others win, then I win, too. I will win with others, not win at the expense of others." We cannot be good leaders if we don't first commit to the development of behaviors that will drive our leadership character – we must build a foundation from which to grow as an individual.
In fact, if you wait long enough, your true ethics and character will show through. If they are deemed unseemly, people will stop following you. Weak ethics and character lead to disaster, as very few people trust someone with bad ethics and character – and without trust you can't lead. Therefore, it is impossible for someone with weak ethics or character to ever become a true leader or to remain a leader for long.
Steven Covey states that "Inspirational leaders choose to be inspirational leaders – they make the choices that enable them to become inspirational leaders".
If you are a true leader and truly add value to others, everyone wins.