It shouldn't surprise anyone who visits Fort Saskatchewan to see sheep roaming around the city's downtown parks – the city's mascot is a sheep named Auggie, after all.
Fort Saskatchewan, of course, is known for more than its sheep population – as part of Alberta's Industrial Heartland, it's also known for its petrochemical industry with giants like Dow, Sherritt International, and Shell Canada. And because of this region's proliferation of petrochemical, oil, gas, and chemical players, Fort Saskatchewan is also the location of Canada's largest hydrocarbon processing sector.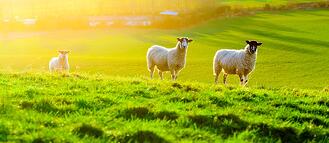 De-ethanizer plant...
Keyera, for example, operates one of the largest natural gas businesses in Canada – and they are a Fort Saskatchewan facility. Keyera is a midstream services and product provider to the Western Canada's oil and gas industry and is constructing a 30,000 barrels per day de-ethanizer plant. The $110 million dollar project is slated for completion in early 2014; the facility will deliver ethane to producers of petrochemical products in Alberta. It will also provide the necessary propane-rich stream of natural gas liquids for the company's fractionation plants.
TransCanada Heartland Pipeline…
Eight miles northeast of Fort Saskatchewan will be the beginning of the 125 mile pipeline scheduled to be completed in the second half of 2015. The pipeline will end approximately 4.5 miles south of Hardisty.
Ultimately, the pipeline will handle about 900,000 barrels of crude oil on a daily basis. Overall, the goal of the pipeline – and its end location – is to leverage TransCanada's Alberta services as much as possible.
Currently, the entity oversees approximately 15,000 miles of natural gas pipeline throughout Alberta as well as 2,150 miles of crude lines assigned to the Keystone Pipeline. The latter project is noted for handling over 400 million barrels of crude oil for markets in the United States since its start in 2010.