It was during the boom-and-bust period of the Internet bubble back in 2002 when rising U.S. stars like Enron, Tyco International, and WorldCom went bust.
In short, stockholders of these companies watched their holdings dwindle or disappear -- in some cases, billions of dollars were lost.
Soon after, the Sorbanes-Oxley (SOX) bill was enacted to make sure corporations were signing off on real financial reports by requiring C-level chiefs to attest to their legitimacy in writing.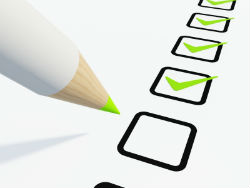 No surprise, but the international community took note and a number of countries enacted SOX-like legislation, including Canada with its passage of Bill 198. It might not be remembered by its actual name, "Keeping the Promise for a Strong Economy Act /2002," but the arc of its coverage also touches companies involved in the oil and gas industry.
As such, the growth of oil sands and conventional growth is expected to double the production of Canadian crude oil by 2030. This will hasten the need for companies doing business in this sector to have people who know what's going on in their organizations by familiarizing themselves with a sox compliance checklist.
The Sox compliance checklist requires that:
companies establish internal controls for financial reporting as well as procedures for financial disclosure.

companies review and report on their internal controls on an ongoing basis, with "trustworthy and reliable evidence" provided in annual reports to securities regulators.

companies officially disclose the effectiveness of their internal controls, both on an interim and annual basis.
Overall, Bill 198 makes certain the "buck stops" at the desks of the company executives before they're filed with Canada's securities regulators.
Learn more about Asyma Solutions.