Keith Greeno - B.Com,CPA,CMA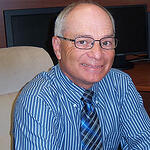 Keith is the co-founder and president of Asyma Solutions Ltd. Keith practiced with a public accounting firm for over 25 years where he developed an extensive knowledge of effective management processes and system design. Since then Keith has focused on consulting in business analysis, system design/analysis, training, implementation, software installation and project management within the Construction and Oil & Gas industries.
Keith believes in using management best practices and technology together as one effective solution, which provides businesses with systems that work. "As technology advances we must also advance and change" is Keith's lifelong learning approach, which he pursues with continued professional development training.
Outside of being an accountant (CPA), business owner and guiding great businesses, Keith is a self-proclaimed sports fanatic. He plays softball competitively, and loves to fish, hike and hunt; but his passion is skiing. He believes in volunteering by coaching and assisting on numerous community boards and committees.


Dick Boorsma - B.Mgt

Dick Boorsma is one of the co-founders and vice president of Asyma Solutions Ltd. He is a veteran in the computer industry and has been involved in working with accounting software solutions since 1988.
Having a great relationship with clients and helping them achieve success in their respective businesses is Dick's number one passion. It is likely that you will work one-on-one with Dick as he remains heavily involved with his clients - assisting with troubleshooting issues that arise, conducting training, and designing new accounting systems. Dick is driven to improve businesses by developing software solutions that can generate substantial returns for our customers.
Although his time is heavily devoted to the company, when Dick isn't working you might find him enjoying a restful weekend at his mountain home where he loves taking long walks or hikes with his family. With a degree in Management, a successful company which he helped build, and a wealth of experience, Dick has a lot to be proud of. Yet, he is most proud of his four kids and his grandchildren.
Training & Certifications
Sage 300 - Financials, Operations, CRM
Technisoft Service Manager
Sage Project & Job Costing
PrintBoss
Orchid
RecXpress