DMT Mechanical LTD. is a plumbing and heating company that specializes in commercial and industrial projects, from blue prints to production, and strives to provide their customers with a turnkey product, maintenance, and excellent workmanship.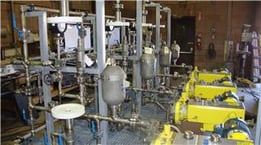 As they grew to have more than 40 tradesman, DMT Mechanical realized that continuing to offer superior customer service would require them to replace their antiquated accounting system.
With their old accounting system, they had trouble processing construction and service requirements, management reporting, and inaccurate data.
With the help of Asyma Solutions, DMT Mechanical implemented Sage 300 and Sage HRMS and got better profitability, increased customer satisfaction, streamlined data, an integrated central database, and more.
Ready to Learn More?
To read the complete case study, please fill out the form on this page. We'll email a copy directly to your inbox.